The Fruitful Years - 1980ís
The 1980ís were to prove quite fruitful for the club with promotions, tournament wins and the Junior championship for the first and only time in 1983.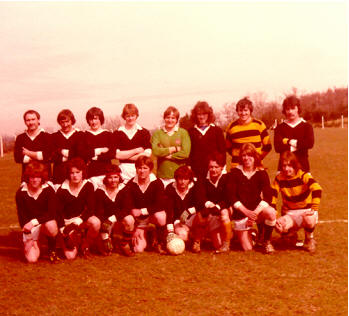 Back Row: Natty McGeown, John Macken, Barney McGeown, Jimmy Murphy, Brendan Carlin, Eugene McCone, Jim Boyle, Harry McGeown.
Front Row: Kevin Gollogy, Paul Gildea, Kevin McNamee, Francie Carlise, Patsy McGeown, Seamus Brown, Martin Boyce, Colm Boyce
In 1980, the club finished second to Ballymacnab in the old division 3B and were duly promoted to Division 3 proper. In this year Peter McGeown was on the 1977 Ulster Minor panel, which reached the Ulster final, and he transferred from Clady.
1981 was a quiet year in both league and championship and it was in this year that Aidan McVeigh took over the managerial reigns. The club remained in division 3 in 1982 and the only bright light on the horizon was the winning of the Whitecross tournament. This was also the year that Joseph Callagan took on the mantle of our official club referee.
In 1983, the club had its finest hour when we won the Junior championship.
1983 Junior Championship Winners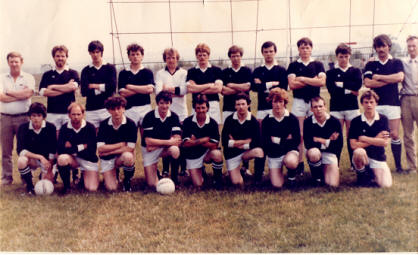 Back Row (L-R): Aidan McVeigh Mgr, E.McCone, K.McKee, P.Gildea, S.Murphy, J.Murphy, P.McGeown, P.Gildea, K.OíHanlon, J.Livingstone, H.McGeown, F.Livingstone Selector.
FrontRow (L-R) : O.McGeown, P.McGeown, P.Gildea, N.Marley, K.McNamee, P.McSorley, K.Gallogly, M.McGeown, J.White.
Click here for the road to the final and the final match report