The Shamrocks team were not active again until the 1950's when they became known as Uí Donnabhain Rossa CLG Mullach Breac, when they registered a team under this name to play in the 1953 season. Three of the names from the 1930's reappeared in this year, namely Tommy Cunnigham, Bob McClure and Eddie O'Hanlon.
In the early 1950's when there was no football team in the parish, a group of men and young lads revived the idea of starting a team locally. This venture was lead by a young man, Jim Boylan (RIP). It was decided a meeting should be held in the local Parochial hall after Sunday Mass to seek the support from the more serious men in the Parish. After much debate, it soon became clear that support was forthcoming for such a venture. It was then decided to form a committee.
However, as the date to register a team had passed in 1952, it was decided to go for it in 1953. In the meantime, the committee agreed to ballot the other clubs in the surrounding parishes for friendly matches any week or Sunday night. As it transpired, the club played two games every week for the duration of the summer. This was ideal preparation for the team to begin its campaign in 1953. The committee that was formed in 1952 was as follows:
Chairman: Paddy Hanratty; Secretary: James O'Neill; Treasurer: Tommy Toner: Committee Members: Master Frank Mallon; Jim Boylan; Jim Gildea; Tommy Cunningham; Francie Boylan; Ardle O'Hanlon; Barney Og Mulligan; John McGrath and Bob McClure.
The next task facing the committee was to acquire a field for playing home matches and, on which to train. A field was rented in Ballindarragh from the late Tom Kelly. This field along with two others acquired at a later date were to become known as O'Donovan Rossa Park on the outskirts of Markethill.
O'Donnavan Rossa Team in the 1950's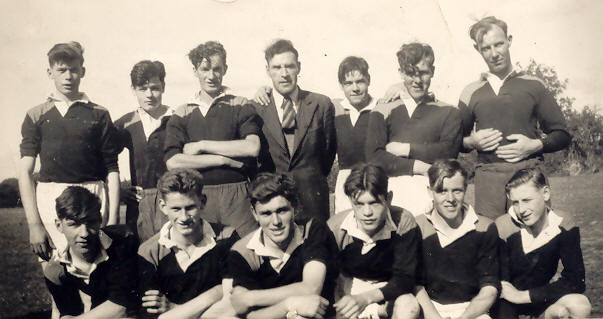 Back Row (L-R): Sean Boylan, Kevin McNamee, Francie Livingstone, Eddie O'Hanlon, Brendan O'Hanlon, Leo Feighan, Bobby McClure
Front Row (L-R): Liam Boylan, Seamus Mallon, Jim Boylan, Colm McNamee, Jimmy Feighan, Jackie O'Rourke
..............more on the 1950's