Also in that panel were Columba Loughran of Clady, Tomas Rocks, Tony Davis of Tandragee, Jim Loughlin and Raymond McSherry of Poyntspass, Sean Burn of Lissummon; Nicholas Daly and Mick Lynch of Kerry.
In May 1952, in preparation for the upcoming season, a team from Mullabrack travelled by bicycle to Clare crossroads to play a Tandragee selection. At the venue, there were no crossbars in view, so a rope was hastily strung between the posts for the purpose of getting the game underway. There were also no nets. The return match was played in July 1952 in Thomas Cunningham's seven acre field.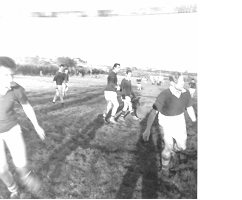 Action Shot of Jimmy Feighan playing in the 1950's
The team colours changed in the 1950's to black and white and the first official challenge match was with Ballymacnab Round towers. At this time Junior and League football was thirteen a side and the panel was as follows:
Nattie McClure; James McCone; Eddie O'Hanlon; Jimmy Feighan; Jim Boylan; Sean Boylan; Liam Boylan; Seamus Mallon; Ray Boyce;
Bob McClure; Joe McKeown; Tommy Cunnigham; Francie Livingstone; Kevin McNamee, Jim Gildea; Jim Murphy and Leo Feighan. The match was refereed by Rev Fr John Joe Devlin CC Ballymacnab and it was he who bought the first footballs for the team in Dundalk.
As interest in the team grew stronger, other names started to come into the panel of players: Brendan O'Hanlon; Jim Daly; Colm McNamee; Sean Cassidy; Fr Pat Cassidy; Johnny McConnell, Gerry Lavery. Vincent Savage and Richie McCann who hailed from Clady played with Mullabrack because of the absence of a team in Clady at that time.
In the 1950's the tradition of having committee members involved with the county continued with Tommy Cunningham being chosen as a county selector for the 1953 Armagh Senior Team. There were also two players chosen for the county minor panel in this era – Liam Boylan in 1954 and Sean Cassidy in 1959.