Mullabrack v Shane O'Neills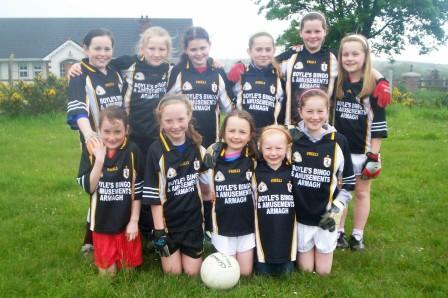 The Mullabrack U12 Girls
Mullabrack girls took on a very strong Shane O'Neills team in the U12 championship on Tuesday 19/5/09. The visitors proved a real handful for this young Mullabrack side in the first half taking some excellent scores worthy of the current U12 champions. However in the second half the Mullabrack girls put up a tremendous fight with Ursula McGeown finding the net twice and Clara McKeown netting for a third goal. Caoimbhe Farrell brought off several good saves in goals with Maggie Rice and Orla Fields preventing their opponents from having many second-half scoring chances in the full-back line. Mid-fielders Eimear Rice and Maria Gallogly had the better of the opposition in the second-half.. Aisling Toner and Mairead Rice impressed the opposition with their courage and ability to win frees. Maria Murphy and Katie Doherty tried hard against a more experienced and bigger team. Well done girls!
Team: C Farrell, O Fields, M Rice, C McKeown, A Toner, M Gallogly, E Rice(capt), K Doherty, U McGeown, M Rice, M Murphy, C McKeown, K Davis.
The U12's hosted Derrynoose in the league on Friday evening 29/5/09. The large number of parents who turned out to watch the children were treated to a very entertaining and thrilling game. The Mullabrack girls had secured a two point lead at half-time but the strength of their opponents was difficult to deal with in the second-half with Derrynoose just piping the home side at the post. Final score Mullabrack 3:10 Derrynoose 4:9.
Team: C Farrell, O Fields, M Rice, Clara McKeown, A Toner, M Gallogly, E Rice, N Rice, M Murphy, Colleen McKeown, U McGeown, K Smith.
The senior ladies continued their good run in Division two when they hosted Silverbridge the following evening. This proved to be a very entertaining game with some excellent football played by the home side to lead at the break by a point. However the experienced Silverbridge side sneaked into a second half lead but Rachael McGeowns point just before the full-time whistle secured a valuable league point. Final score Mullabrack 2:7 Silverbridge 1:10.
Team: J McSorley, C Brennan, O Boyle, M Dougan, F Rice, K Rice, H Corvan, G Rice, L Murray, E Fields T Morgan, N Sutton, F Boyce, S Gallogly, M Hearty. Subs: C Gallogly, R McGeown, C Crilly
<![if !vml]>

<![endif]>