Mullabrack Ladies make the Junior final
<![if !vml]>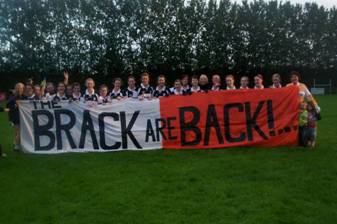 <![endif]>
Not to be out done by the men, the Mullabrack senior ladies made it to the junior championship final for the first time in their short history on Sunday evening in Ballyhegan. What started off as only an idea three years ago has been transformed into a championship final team. Kieran O'Hanlon, Kevin McKee and Josephine Mc Sorely ably assisted by Marian Fields and Mary Rice have worked hard with this ladies team preparing them for the semi final against a tough Tir na Og side. In front of a huge crowd the Mullabrack ladies were first to score when Rachael McGeown won the ball on the edge of the square and struck it sweetly to the net. Toni Morgan increased the lead with a well taken point. Tir na Og converted two frees to narrow the gap, but Mullabracks Christina Crilly was in fine form converting a free. Tir na Og exchanged further points with Christina to leave the half-time score 1:3 to 0:4 in Mullabracks favour.
Mullabrack were more composed in the second half and extended their lead when Rachel McGeown hit the Tir na Og net for the second time. Tir na Og replied with a point but this was cancelled out when Shauna Gallogly kicked a point. The Mullabrack defence held firm only conceding one further point. Niamh Sutton got the final point of the match leaving the final score at 2:5 to 0:6 in Mullabracks favour
This was a very well deserved victory and concluded a successful weekend for the club following on from the mens chmpionship win the previous night. Josie Mc Sorley was sound in goals finding good range with her kick outs. The full-back line of Michaela Dougan, Faye Rice and Dearbhla Corvan worked extremely hard allowing the Tir na Og full forwards few chances. Aoife McConville won a lot of possession at centre half-back, with Helen Corvan and Emma Fields making it very difficult for their opponents. Kathryn and Gemma Rice were very competitive in the mid-field area particularly in the closing stages when possession was vital. Christina Crilly had an excellent game at centre half with Toni Morgan and Leanne Murray winning good possession and sending good ball to the full forwards.
Niamh Sutton, Shauna Gallogly and Rachel McGeown were always alert and fighting for scores. Joan Murphy was introduced in the final ten minutes and set up the final score of the match. Ciara Gallogly then replaced the hard working Emma Fields who succumbed to an injury just before the final whistle.
Team: J McSorley, D Corvan, M Dougan, F Rice, E Fields, A McConville, H Corvan, G Rice, K Rice, T Morgan, C Crilly, L Murray,N Sutton, S Gallogly,.R McGeown.
Subs: J Murphy, C Gallogly, S Farrell, L Rice, E Nugent, F Boyce G Lee, C Monaghan, N O'Hanlon
<![if !vml]>

<![endif]>