PRESS RELEASE
Mullabrack Celebrate 125 Years of the GAA
Mullabrack GFC celebrated 125 years of the GAA on Sunday past. The celebrations started with An U12 match between the boys and girls of the club. This proved very entertaining with our young players demonstrating their skills under the watchful eye of their coach and referee for the day Kevin Gallogly.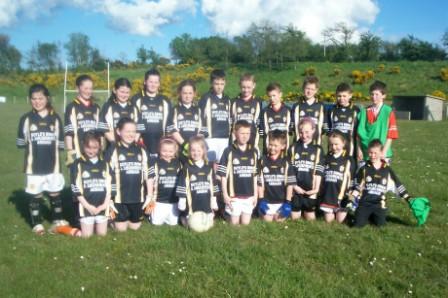 U12s: Ashleen Toner, Collen McKeown, Kerri Davis, Mairead Rice, Clara McKeown, Eimear Rice, Ursula McGeown, Maria Gallogly, Maggie Rice, Caoimbhe Farrell, Orla Fields, Shane O'Hanlon, Daniel Doran, Darragh Reilly, Conor O'Hanlon, Padraig Davis, Fearghal O'Hanlon, Eoin Crilly, James Rice, James Toner, Ruari Farrell.
The main event saw the current ladies squad take on the men of Mullabrack. The men's team included past players, some of whom had hung up their boots many years ago. The current players were somewhat hindered by their footwear and had to rely on the old hands to get the scores on the board. Club president Seamus Mallon refereed the first half, while Down Granddad Pete McLoughlin took charge in the second half.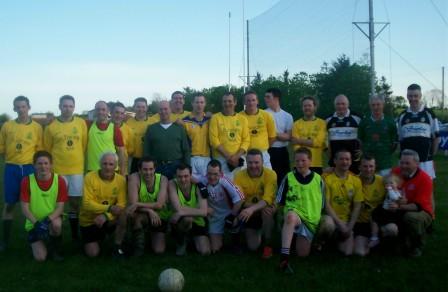 Men: Seamus Rice, Frankie Conlon, Phelim Sands, Eddie O'Hanlon, Collie Murphy, Joe Fields, Tony Murray, Oliver McGeown, Dominic Crossan, Kieran O'Hanlon, Kevin McKee, Mike Haughey, Ryan Murphy, Paul Denny, Daniel Hamill, Enda McKeown, Chris Dougan, Jim Livingstone, Eamonn Boylan, Mickey McElhone, Colin Comiskey, Darragh Brennan, Philip McGeown, Christopher Murphy, Hugh McSorley, Liam Conlon, Christopher Dougan
The ladies of course got some help from their coaches and in the end gave the men a very tough time.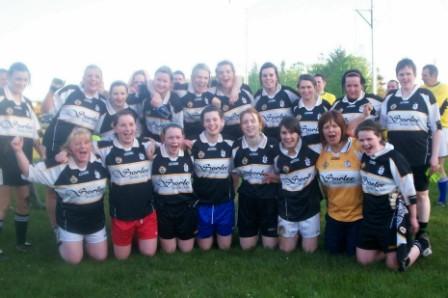 Ladies: Josie McSorley, Faye Rice, Ciara Gallogly, Ciara Brennan, Michaela Dugan, Frances Boyce, Gemma Rice, Kathryn Rice, Aoife Lennon, Helen Corvan, Toni Morgan, Leanne Murray, Martina Hearty, Caithlin O'Hanlon, Saoirse Farrell, Christina Crilly, Shauna Gallogly, Kate Boyce
The huge support at the event thoroughly enjoyed the match and the spectacle came to a climax when the new Club Chairman Eddie O'Hanlon ended up with mud on his face!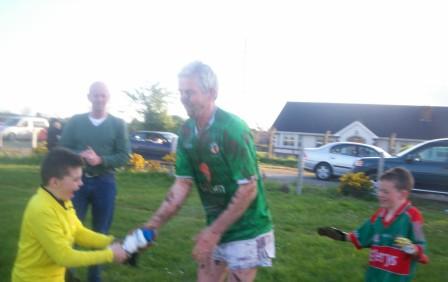 "I didn't sign up for this"
All the Players and supporters enjoyed a selection of refreshments afterwards.The club would like to thank all those who took part and those who came along to support the teams ensuring the day was a huge success. All proceeds on the day are going to the Lourdes fund as two of our young ladies Faye Rice and Leanne Murray head off to Lourdes on Tuesday 12th May as helpers with St Catherine's College.
<![if !vml]>

<![endif]>