PRESS RELEASE
League Match
Saturday 21st April 2007 at 6.30pm
Mullabrack 2:10 v Phelim Bradys 1:7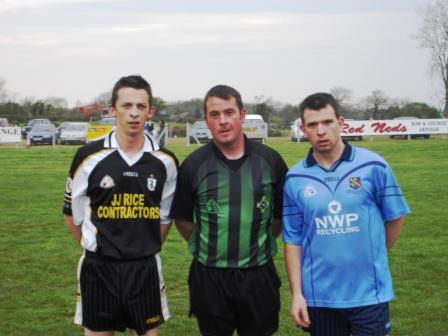 Mullabrack started briskly against a very competitive Brady's side by pegging off 5 excellent scores in the first five minutes without reply. Taff Toal, Paddy Toal and Gerard Agnew showing off their pointing skills. Mullabrack's first goal then came from a good catch by Dara Smith in the middle of the field and a quick ball to <![if !vml]>

<![endif]>Taff Toal saw him round his man and fire a 15 yard shot low into the left hand corner of the Brady's net. Mullabrack continued to pile the pressure on and good work by Eamon Boylan to win possession on the half forward line saw him hand pass to the middle of the field where an unmarked Gerard Agnew put the ball between the posts from 30 yards. At a score of 1 goal and 5 points to no reply Mullabrack were on top however for some unknown reason they took foot off the pedal. Phelim Brady's replied with two points of their own before Taff Toal replied with a free. Gerard Agnew then had an opportunity with a '50' which he 'coolly' slotted between the posts. Two further points without reply from Phelim Brady's saw an edgy Mullabrack side trying to dig deep to hold possession. A foul on the 20 yard line won by Eamon Boylan allowed Taff Toal to slot the ball home. The half then ended with a final free from Phelim Bradys leaving the score at the break 1 goal and 9 points to 5 points at half time.
Once again Mullabrack started well in the second half, but a hat full of chances were missed by Taff Toal, Benny Dougan and Eamon Boylan and it nearly proved Mullabracks undoing, however Phelim Bradys shooting did not fair much better and they also hit a large number of wide's. Tommy O'Hagan and Paul Jordan in defence were doing their best to thwart the high balls coming into the Phelim Brady's forwards. Dara Smith and Phelim Sands in midfield were not getting it all their own way and in the forward line Paddy Toal, Benny Dougan and Eamon Boylan all tried hard to win breaking ball. Fifteen minutes into the second half Gerard Agnew caught a long ball in and laid it off to Eamon Boylan who fed Taff Toal on the Brady's end line and with a quick turn of pace rounded his man and sent a looping ball towards the Phelim Brady's net. As luck would have it the Brady's keeper had been too far off his line and the ball looped into the net.
Bradys and Benny Dougan for Mullabrack then exchanged well worked points before Mullabrack brought on Pip Agnew for Paddy Toal and Chris Dougan for Paul Jordan. Bradys continued to take the game to Mullabrack and pegged on three further points before Liam Quigley blew for full time.
Over all it had been a below par performance by Mullabrack on the night. Mullabrack would need to ensure that their more experienced players do not have any more quiet games since most of the opposition in division four will present a stiffer challenge than the enthusiastic Phelim Brady's.
Mullabrack Team: Daniel O'Hanlon, Tommy O'Hagan, Paul Jordan, John Conlon, Kevin Smith, Hugh McSorely (Capt), Dara Smith, Phelim Sands, John Neil, Gerard Agnew, Benny Dougan, Eamon Boylan, Paddy Toal, Taff Toal. Subs: Chris Dougan, Pip Agnew, Mickey McCusker, Stephen Donnelly and James Lavery.
<![if !vml]>

<![endif]>