During 2001 further development work take place on the Ballindarragh pitch when it was drained and shored, with the major part of the cost being borne by a local dedicated supporter of Mullabrack. Lighting was erected for training purposes by a number of the players, Stephen and Phelim Sands, James Lavery and Martin McCooey. 2003 marked the 100th anniversary of the clubs involvement with Gaelic football and saw the return of the club to the original colours of black and white.
The 2004 Championship Team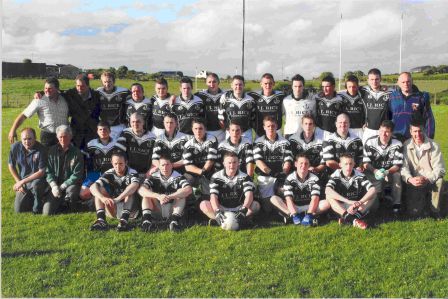 Although Mullabrack are celebrating 100 years in Gaelic football, the road along has not been easy at times. On behalf of the people of the parish of Mullabrack we would like to thank every player, committee member, supporter and anyone else who has contributed to the running and keeping alive of the football club in this area over the course of the last century. May we hope and pray that the great tradition of Gaelic football in this area will still be alive after the next 100 years.